Branding projects tend to fit into three categories:
1. I have no brand, but need one.
2. I have a brand and it's a mess. Help!
3. I have a brand and it's awesome, but I want to tweak it.
We see all three at OOHology, and while I love any branding project, sometimes the most exciting are the clean slates. I'm talking no name, logo, and most of all, no predispositions. It's just our team, the client and all the potential in the world.
We recently had that fresh-start opportunity with The SBL Group's Steve Landis and his business partner, Chuck Watson. They came to us to help launch a national conference for the Maintenance, Repair and Operations industry, with a niche focus on spare parts. If you don't know much about the MRO industry, it's OK, neither did we. Learning anything and everything you can is part of the job. Let's take a look at how we learned the ropes, conceptualized, branded, built a website and launched a national conference in about four months.
Research
This part of the process may not seem very exciting or sexy, and it can even feel lethargic at times. But it's completely necessary. This is essentially the foundation that we will build upon throughout the rest of the project.
When we kicked this off, our team didn't have an extensive MRO knowledge base, so we read everything we could find. We conducted several interviews with Steve and Chuck, asking even the most basic of questions. During this process you must put aside your fear of, quite frankly, sounding dumb. If we let that feeling take hold, then it can limit our ability to understand our clients' businesses from the ground up.
Naming
We took our new-found knowledge and went our separate ways to brainstorm name options. We don't have a strict process on naming – rules can hamper creativity – but for this one, we all wanted some time to think to ourselves. Sometimes naming projects can take many rounds, but we actually came to the Maintenance and Parts Solutions Conference (MAPS Conference) in only two rounds and half a dozen options.
Logo
Our co-founder often tells clients, "there are a lot of ways to get this right, we just want to choose the most right option." It sounds kind of vague and noncommittal, but if you have ever worked on logos, it makes sense. Our professional designers create beautiful logos that perish every week, because we have to choose the "most right" option for each brand.
We had several concepts for logos, a few of which were far more abstract than where we finally landed. While the name "MAPS" provides marketing opportunities, such as encouraging companies to "move in the right direction," it also left much to be wondered. We ultimately decided the final mark was best served as an icon symbolic of the industry – the cog.
Brand Identity
OK, so now you have a wealth of knowledge, name and fancy logo, but how would you describe the look and feel? What does this brand sound like? How should the team talk about it?
We spent hours and hours answering these questions. One of the most important components here was establishing messaging guidelines for each vertical – attendees and exhibitors. They required very different messages, so our team built out recommended language for each.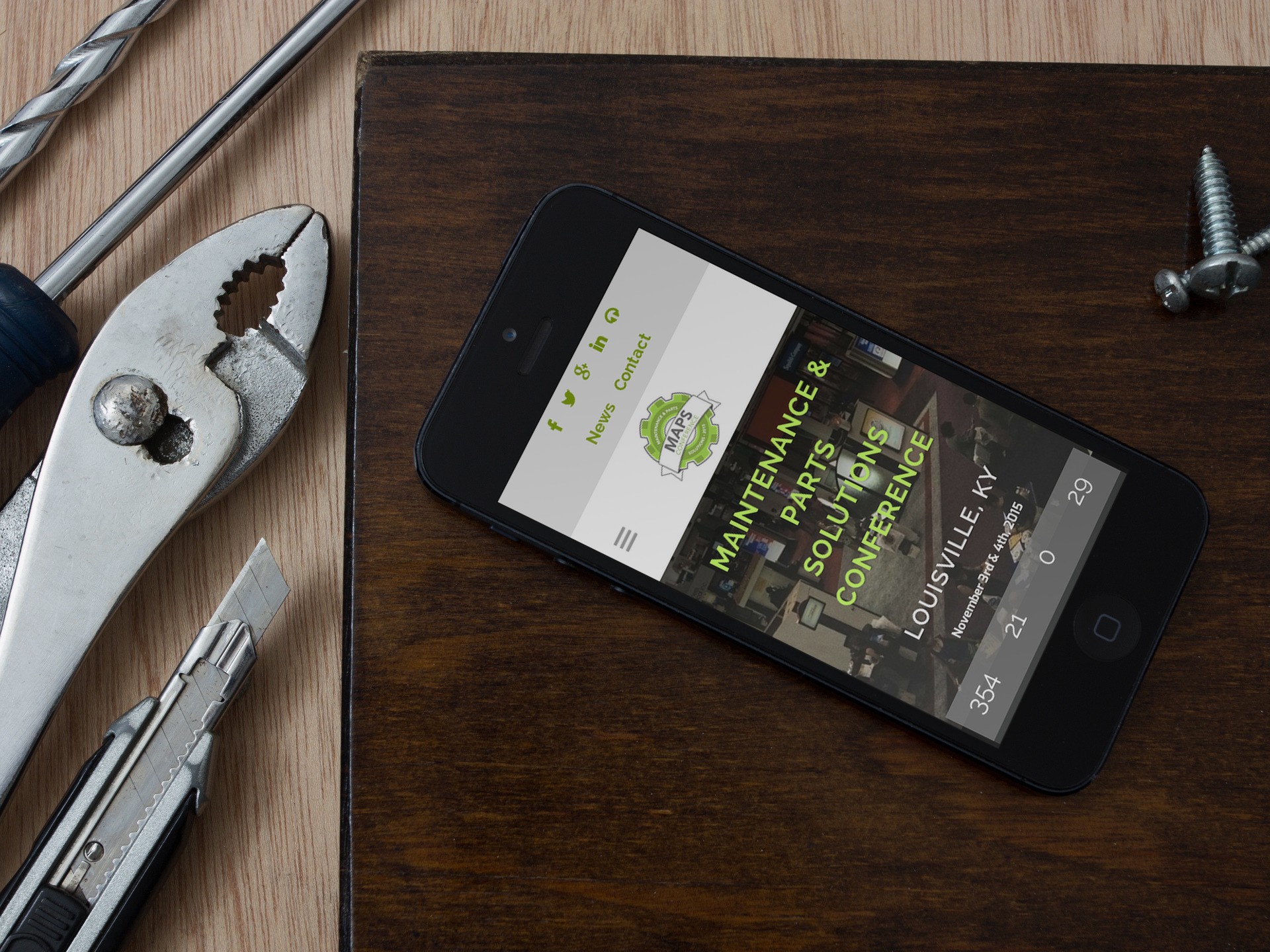 Website
Typically when we kick off a website process, we have to do all of that educational research that I mentioned earlier. At this point, we were incredibly familiar with this brand that we had just helped the client create. This helped our team to better cater the site to its audience and even anticipate items Steve or Chuck might want tweaked. We applied all of our fresh messaging to the site, with two clear paths for attendees and exhibitors.
Launch Items
Ah, now the rest. These items were really tossed in throughout the process as a whole. Again, this is an entirely new conference, so much of our focus has been how to earn industry respect and trust. Steve has 25 years of experience in the field, and has worked with industry giants like Frito-Lay, so we've put him in the spotlight as an organizer.
Our team crafted sales sheets and call scripts for Chuck's sales team to have all of the anticipated questions and answers right in front of them. We've even gone so far as to build out driving distance charts so sales reps can quickly say, "Oh, you're in St. Louis? Well the conference is an easy four hour drive for you!" While this project has taken about four months from concept to launch, about two months of our work has gone into the most granular details like this. We've prepped their social media, built out content calendars, planned the public relations components, and even helped plan sponsorships for the snacks provided at the conference.
The first MAPS Conference is a little under a year away. It's been a pleasure to work with Steve and Chuck along the way, and we look forward to working with them over the next year to ensure the event is not only successful in its inaugural year, but for years to come.
Questions about this project? Just ask!