Building a Brand, Block by Block
This story ends with our Co-Founder, Mark Palmer, getting a bear hug from the Co-Founder of Rozas Ward. It's not often you see hugs exchanged in business. And it's definitely not often anyone wants to hug Mark (that beard just gets in the way). But that's exactly where this story ends. First, though, let's start with the problem: A business card.
The Challenge
When to Bail on Your Bland Brand
Mark met with the Co-Founders of Rozas Ward, Charles and Darren, several times before the project kicked off. The duo were a great story — two young architects who had worked their way up, founded their own firm together, and were making huge strides with a good sized team in New Orleans. But if you know anything about NOLA, you know it's a culturally rich place with deep historic roots. That remains true for the architectural firms, too. While Darren and Charles had built a firm with 25 years of experience, it paled in comparison to some of the firms with a century-long history.
In fact, in our brand discovery someone told us he disliked the company's logo and branding so much he never gave out his business cards. If anyone asked for a business card, he'd say he had forgotten them. The team had grown, and was using some cutting edge software to show clients work. But while they were progressive and young, the brand felt very outdated. In fact, in our brand discovery one person told us he disliked the company's logo and branding so much, that whenever anyone asked for a business card, he'd say he had forgotten them. The truth? He'd never given out a single one.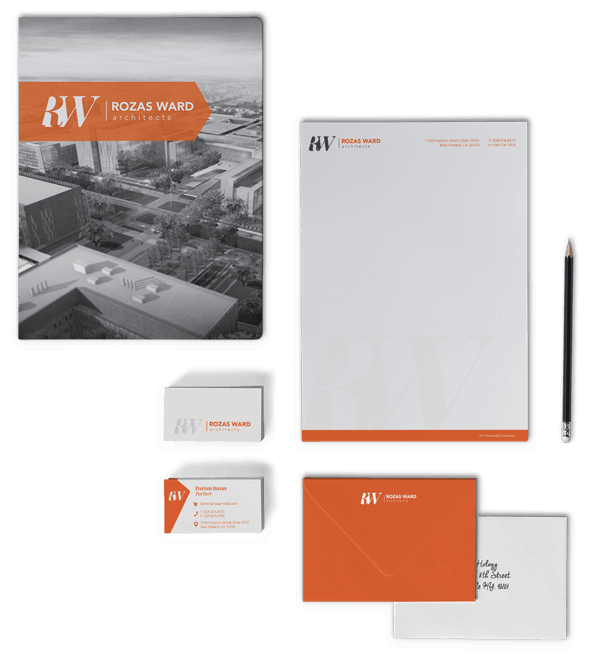 The Rebuild Begins
Our discovery shed a lot of light on Rozas Ward's unique positioning within the market. We found their relationships with clients to be so strong that clients never left. We helped position them as the "last architecture firm you'll ever need." Our creative team also wiped the slate clean, losing everything about the brand, from the logo to the very aggressive color palette of reds and blacks. We stayed in the same spectrum, introducing a warm orange that felt warm and inviting, just like the Rozas Ward team. We also implemented design elements, such as arrows and sharp angles to evoke feelings of sophistication. And one of the larger undertakings was the overhaul of the logo. We created a beautiful mark, showcasing an interlocked R and W, which represents how integrated Rozas Ward is with its clients.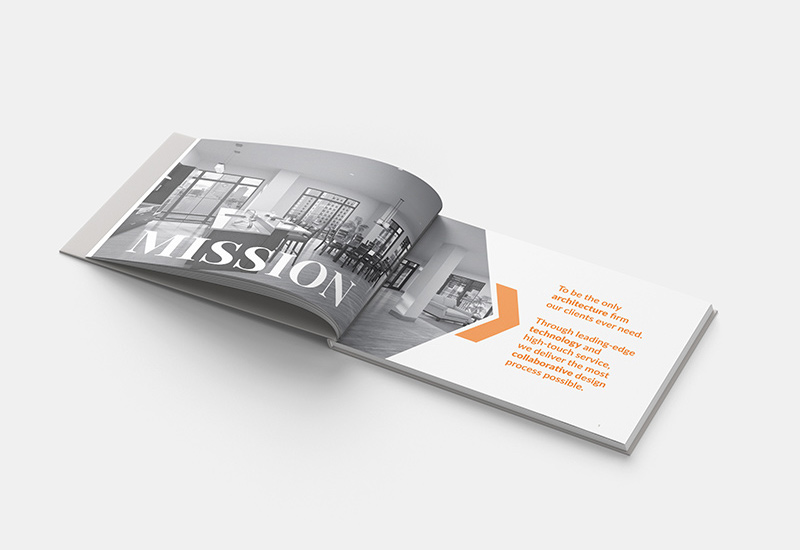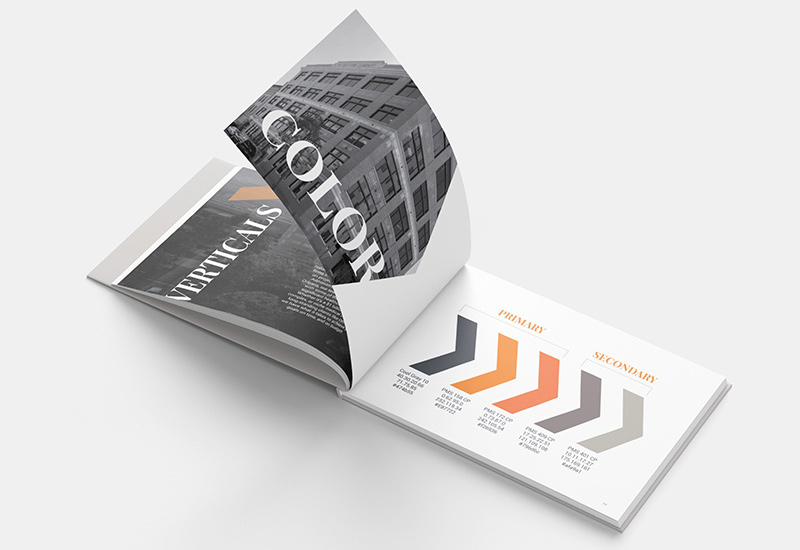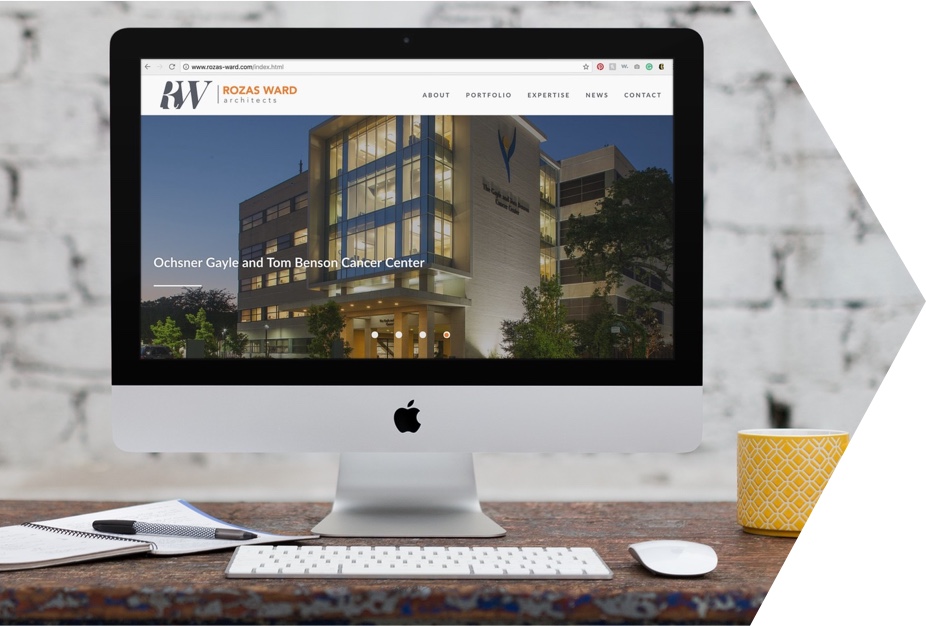 The Solution
Rolling it Forward to Web
Once the brand was established, we moved ahead with web design. For this project, we showed Rozas Ward that they were the only ones who could be progressive. We kept this project with one person through the wireframes, design and front-end development, which meant we could combine some parts of each process to keep things moving swiftly. While this took a great deal of trust from the client, it also gave us the leeway we needed to execute certain aspects of the site without exhausting our available hours in granular revisions.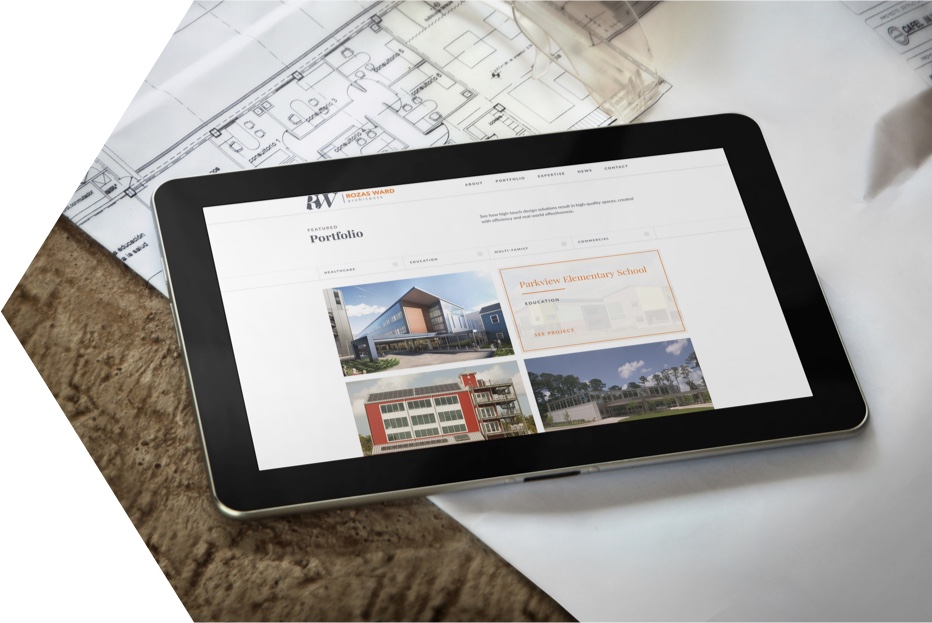 The end result of the web is an absolutely stunning site, complete with animating icons, a robust and filtering case study section and a fun team bios page. It was fantastic to see all of this great branding work come together, especially knowing we had finally made Rozas Ward look as good as they truly were. And this is where our story ends.
The Outcome
Bring It In, We're Going Full Circle
After the project, Mark just happened to be in New Orleans and stopped in to say hi to Charles. Upon seeing Mark enter the building, Charles walked up to Mark and gripped him tight. Mark asked him what that was for and Charles didn't say a word, but led him to a window looking out over the city from the 35th floor. "We just won the largest project we've ever had — it's a multi-million dollar hospital that's the size of that entire block." Mark looked at Charles and said, "That's awesome man, but what was the hug for?" Charles smiled and said, "It came down to us and three other firms, and the client said we were all the same across the board. Great work and experience. But when they considered how tight our own personal brand was, they knew that if we put that kind of effort into our own work, that we would do even better for them. The branding was the difference in winning the job."
We've always known that this happens. People judge brands by their cover every single day. But we've never had a larger acknowledgement of the impact of our work, and we're so proud of Charles and his team for earning this project. And we're proud to have played a role in that.
*Hugs*
The Numbers
No Voodoo Necessary