Y'all, if you're not doing it for the 'gram, you better get started.
Instagram is quickly becoming the front-runner in social media. It's projected to surpass Facebook in users by the end of 2020, and those users are ripe for engaging content and brands to love. Instagram already beats Facebook when it comes to converting followers, just peep these 4 stats.
A study by AdWeek revealed that brands are getting 3x more engagement on Instagram as compared to the exact same post shared on Facebook.
60% of users discover products on Instagram | Got a good product? Insta users want it. They just don't know it exists yet.
75% of users follow-through with a desired action | Like visiting your website after seeing your post to learn more about your product/business.
Instagram users are 70% more likely to buy via mobile. | Over a third of Instagram users have used their phone to purchase a product online, making them 70% more likely to do so than non-users. That's money in yo' pocket.
So how do you get all up in this Instagram goodness? We're here to help. In our new series, Insta Hacks, we're gonna be sharing actionable tips to help you up your Insta-game and learn how to become besties with the ultimate social media engagement queen. You ready to bend the knee?
Week 1: Engagement
First up, for our first blog series on Instagram tips, we're gonna focus on engagement itself. Engagement plays a huge role in Instagram's mysterious, top-secret algorithm. There are four keys to improving your engagement and thus, getting prioritized in their algorithm. If you wanna have fun, take a shot every time we say the word algorithm. Ready? Let's play.
1. Scratch Their Backs
If you retain nothing else from this wonderfully well-written, informative, and slightly comical article, just remember that on Instagram engagement feeds engagement. Instagram wants everyone to have a swell time on its platform and in order to do this, it tries to serve each user content that's interesting. It measures what is interesting in the number of comments and likes (AKA engagement) that your post gets. If you comment on other users' posts, it's more likely they will comment on yours, and the algorithm will rank your post as more interesting. The more comments and DMs you get, the higher you will rank in the algorithm's estimation, and you'll be rewarded with a wider reach for that post. Plus, when you interact with other users, you are increasing your chances of being seen by their followers in the comments and growing your own audience.
2. Comment Spree
You want to get as much engagement on your post as possible within the first hour of posting it. The more immediate reaction you get to your post, the higher Instagram ranks it in its algorithm and the higher it places it in more peoples' feeds. In order to boost your engagement, go on a comment-spree immediately before and after you post something on your own feed. This increases the chance of people visiting your profile and engaging with your most recent post. KABOOM – you get more engagement in that crucial one hour window.
PSA: Don't be that person that leaves canned one-word comments or a hollow emoji. You fake and I'm not gonna respond to that. Be sincere! Be real! I'm way more likely to engage with @mommywantstodrinky than @nozaniofficial because @mommywantstodrinky referenced something specific to my post, whereas @nozaniofficial's comment is obviously a canned response copy and pasted to 30 different accounts. Peace out, Nozani ✌ Hello Mommy.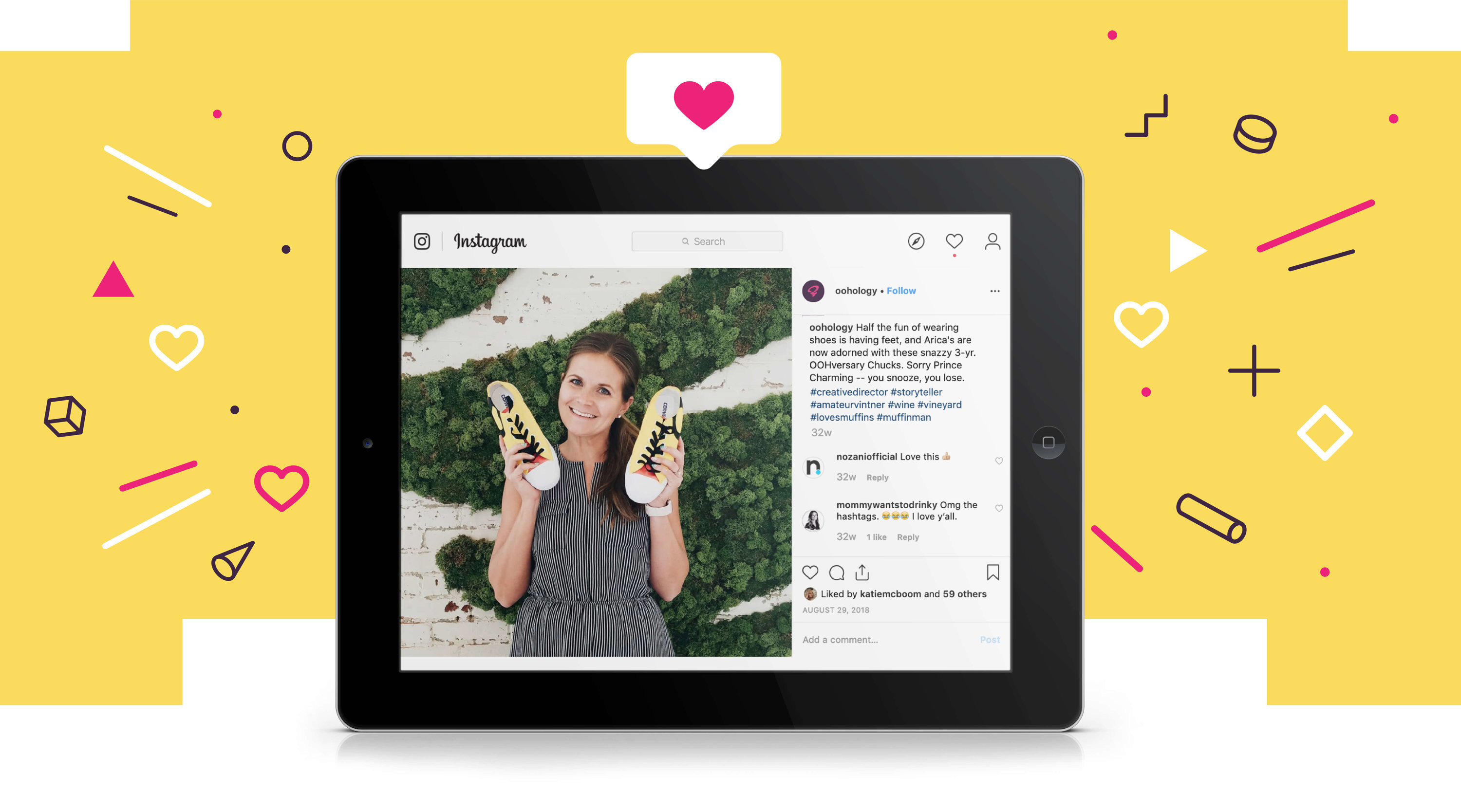 3. Hollaback
Treat Instagram like a real-life social gathering (because it kind of is except everyone is beautiful all the time and life is perfect). If someone at cocktail hour says, "Hey I love those pants", you probably respond with a, "Thank you!" Unless you're a jerk. Don't be a jerk in the real world or on Instagram. If someone comments on your picture, it's common courtesy to reply. It doesn't need to be profound. If they say, "OMG, wow this is a great pic," then all you need to respond with is a quick "Thanks so much! It was so fun". It's one of the easiest things you can do to boost your reach and also spread the good feels. When you do this, there are two key benefits.
a. That person is more likely to interact with your content again, which will boost your engagement in the future.
b. The Instagram algorithm will read their comment and your response as more interaction which means your post will be pushed to more followers, which in turn could lead to more opportunity for more engagement. Remember – the more interaction and engagement on your post, the more people will see it, and the higher your odds are for conversion. It's one big, feel-good Instagram popularity circle.
Sidenote: If you're playing along, you're already 7 shots deep and feeling greaaaaat.
4. Spread the Vibes
Whenever you can, credit or tag other users in both stories and posts! Let's say you attended an entrepreneur workshop and posted a snazzy pic of yourself looking fierce at Happy Hour. When you go to post it, make sure you include a shoutout to the host organization for the great event, the catering company for the noms, any team members you attended with, the venue location itself, etc.
Learned so much at the @entrepreneurstoday workshop with @bizpartner. Amazing food by @bestrestaurant, and the venue @bestvenue was gorgeous. Will definitely be back next year. Well-deserved drinks now at @thehappyhour!
If you don't want to overload your caption with a bunch of @ mentions, you can tag them directly in the photo itself. When you tag others either in the caption or photo, they'll get a notification that you tagged them. At the bare minimum, they'll probably like or even comment on your post (whoop whoop engagement). They may even repost your post, getting your name and content in front of all of their followers opening you up to a brand new audience ready to soak you up! It also goes a long way in building your community too.
Recap
Engagement is key to growing your Instagram following and growing your brand awareness. To help get higher engagement and boost your ranking in Instagram's algorithm, remember to comment on other people's content, do so shortly before and after you post, reply to other's comments on your own posts, and tag other users in your content!
We can't get you the colonel's secret recipe, but we're gonna do what we can in this series to give you the secret sauce to Instagram's algorithm. Next up, we'll be sharing all the knowledge on hashtags!