Y'all, if you're not doing it for the 'gram, you better get started.
Instagram is quickly becoming the front-runner in social media. It's projected to surpass Facebook in users by the end of 2020, and those users are ripe for engaging content and brands to love. Instagram already beats Facebook when it comes to converting followers, just peep these 4 stats.
A study by AdWeek revealed that brands are getting 3x more engagement on Instagram as compared to the exact same post shared on Facebook.
60% of users discover products on Instagram | Got a good product? Insta users want it. They just don't know it exists yet.
75% of users follow-through with a desired action | Like visiting your website after seeing your post to learn more about your product/business.
Instagram users are 70% more likely to buy via mobile. | Over a third of Instagram users have used their phone to purchase a product online, making them 70% more likely to do so than non-users. That's money in yo' pocket.
So how do you get all up in this Instagram goodness? We're here to help. In our new series, Insta Hacks, we're gonna be sharing actionable tips to help you up your Insta-game and learn how to become besties with the ultimate social media engagement queen. You ready to bend the knee?
Week 2: Hashtags
Ahh, the pound (#) sign. Such a humble beginning. What used to be an annoying part of automated phone calls now rules the way we organize and filter content on social media. Enter the hashtag in all its internet glory.
Posts that use hashtags drive more engagement than posts that don't. Those of you who read our previous post on Engagement know how important that is. On average, an Instagram post with just one hashtag added gets 11% more engagement than a post with none. Easy pickins'.
If higher engagement wasn't enough, users can also directly follow hashtags now. This makes hashtags an avenue for your content to show up in users' feeds who don't even follow you *and* would never have found you otherwise. Hellooooo, new followers!
So how do you make the most of all of this #hashtaglove? In this article, we'll talk about the magic number of hashtags for optimal performance, the importance of using long-tail hashtags, and how to hide your hashtags within your post!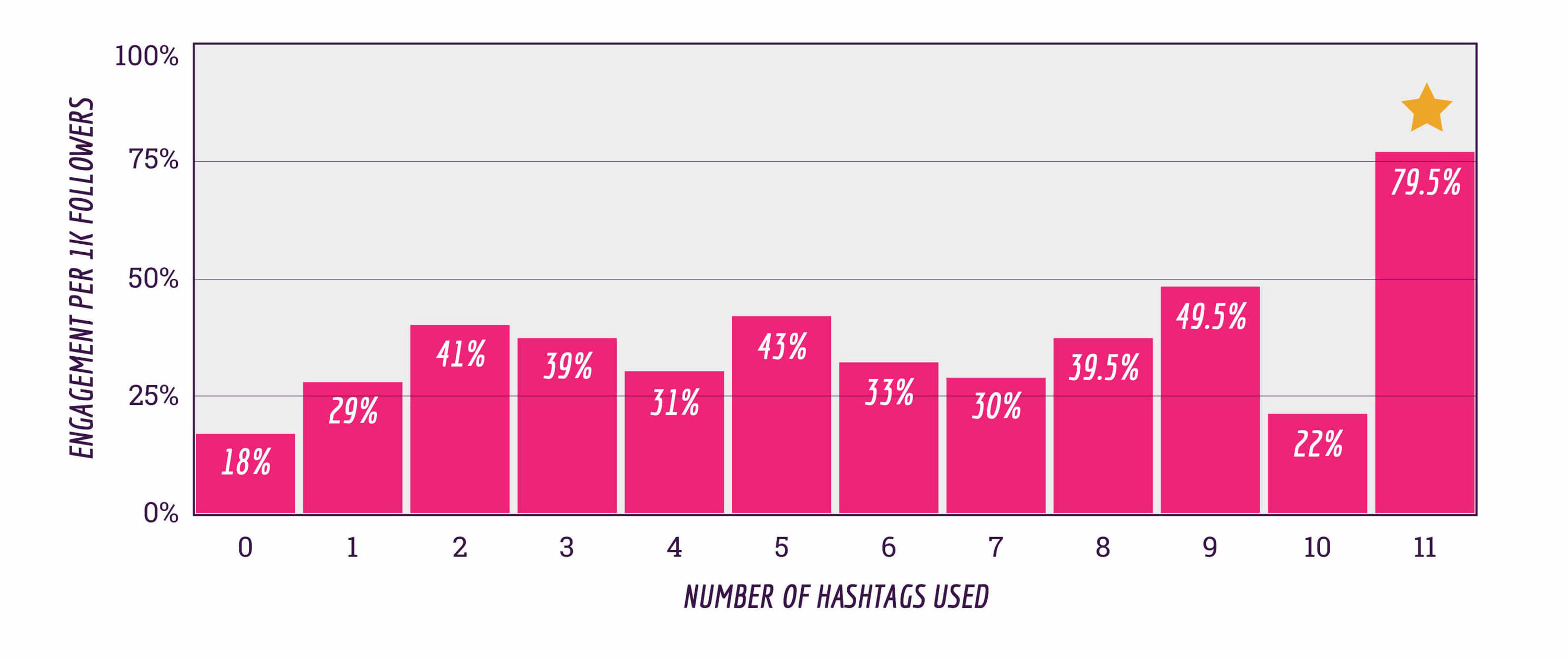 We lied - there isn't one. However, we do have the next best thing and that's data. Let's. Dig. In. Quickspout, an online marketing tips site, did a deep dive on hashtag research earlier this year. Like we mentioned, their analysis found that using just one hashtag gets on average 11% more engagement than a post with no hashtags at all. For posts that use 2-10 hashtags, the stats float in total engagement between 29% and 49.5% with no huge leaps or bounds in between. Until 11. At 11 hashtags, engagement jumps up to 79.5%! WE SEE YOU, 11.
If you want to take advantage of the hashtag benefits, use a MINIMUM of 11 hashtags on your posts, but the more the merrier, up to Instagram's cutoff of 30 total.
Long-tail for the Long Game
With an infinite selection of hashtags to use, how do you know which ones are the best? One secret to success lies in using long-tail hashtags rather than super generic ones. Long-tail hashtags are more specific, so they more accurately reflect the content of your post and reduce the likelihood of your post getting buried in the hashtag feed graveyard.
For example, we used #advertisingagency on the post below. We could have used the very basic #advertising hashtag, but let's look at the numbers. #advertisingagency has 525k+ associated posts whereas #advertising has a whopping 8 million+ and climbing. This means two things! One is that new posts are being added to the #advertisingagency hashtag every minute, so your post will get buried almost immediately. It's like being on page 10 of a google search result - ain't nobody gonna get that far. Secondly, categorizing your content under a more specific hashtag means your content is catered to that hashtag more, meaning people searching that hashtag are more likely to find it interesting, increasing the likelihood for likes, comments, and follows (woo-hoo engagement!). In this example, the long-tail hashtag #advertisingagency is way less saturated and better to use.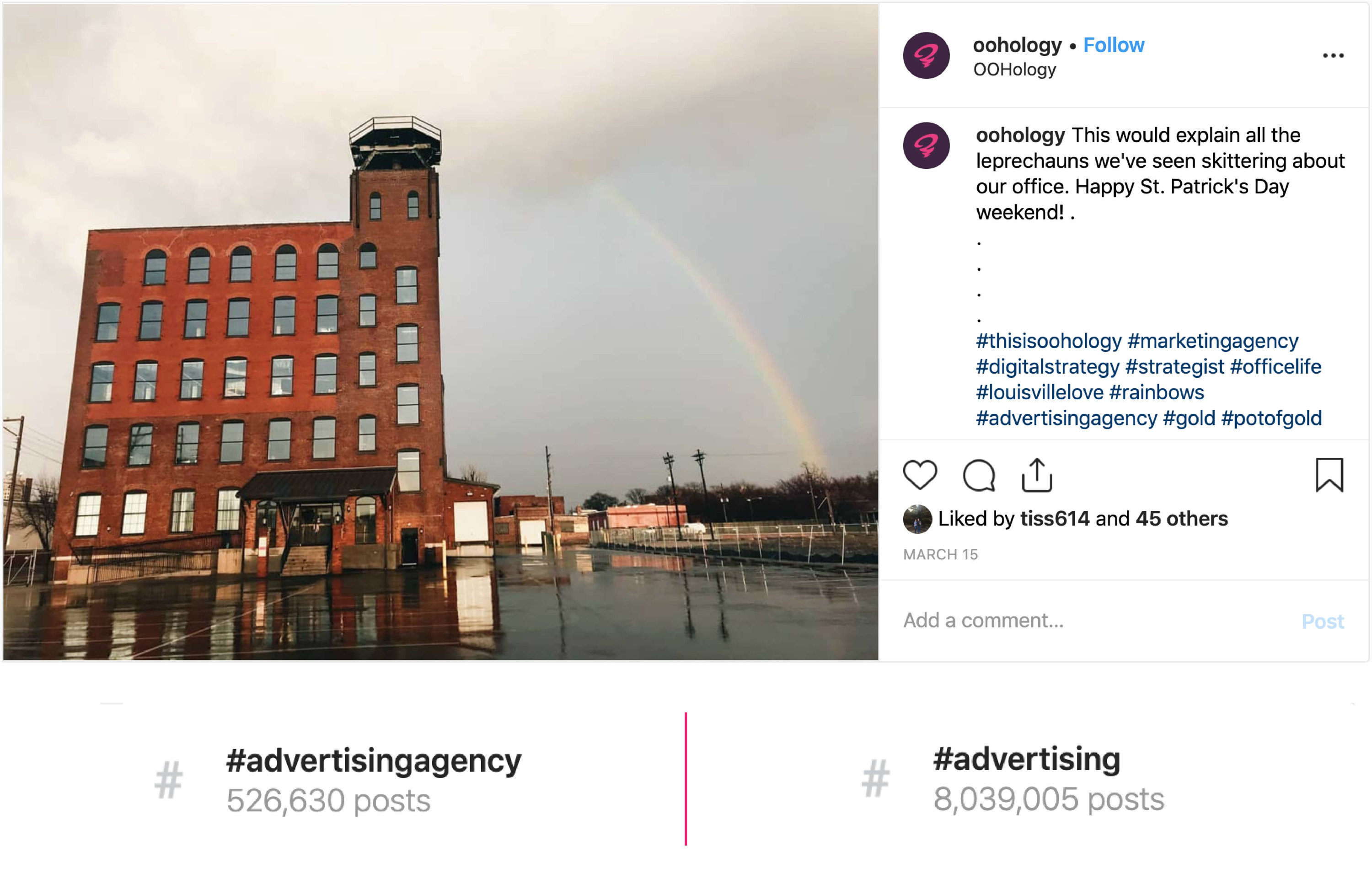 Feel free to throw in some branded or local hashtags (like #thisisoohology and #lovelouisville) to get a good mix going, but be sure to opt for long-tail hashtags over super generic ones like #love or #fun. Those are worthless for getting real engagement and new followers.
Hide the Hashtags
Okay, so you loaded your post up with at least 11 hashtags, woo-hoo. The downside is that all those useful, functional hashtags can distract from your caption and look a little spammy. Easy fix! Like grandpa told you to do with your emotions — hide them. Put 5 bullets or dashes separated by a return space before typing out your hashtags. Instagram doesn't let you type return spaces within the app (weird flex, but ok), so you'll have to type it out in the notes app on your phone and paste it in. It's an odd workaround, but it goes a long way in improving the look of your post, so we always recommend it!
You can put this chunk of text in two places: either as a separate comment or at the bottom of your caption. Both options function the same way, so pick your preference. The bullets will cause the comment or the rest of the caption to collapse and appear like "[...]" to viewers so it won't be so prevalent when viewing the post in your feed.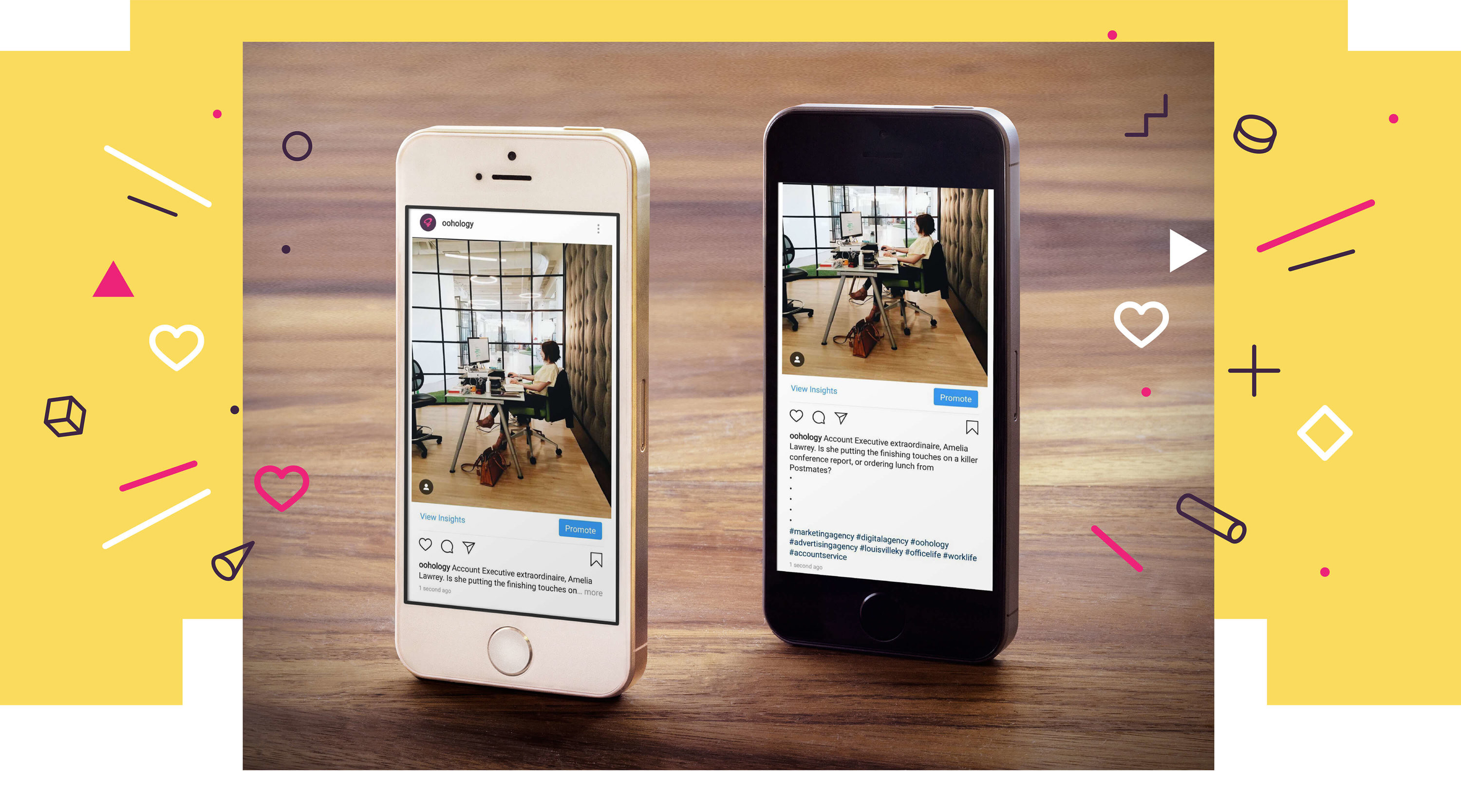 Phew! This was a lot of numbers, and math is hard. Thanks for sticking with me — now, a quick recap! Hashtags are an easy way to get your content in front of new audiences and ideally grow your brand. To make the most of hashtags, remember to use a minimum of 11, but no more than 30 (whoops, more numbers). Use long-tail hashtags when possible, and to keep things aesthetic, hide the hashtags in a comment or at the bottom of a caption with the 5-bullet method.
We can't get you the colonel's secret recipe, but we're gonna do what we can in this series to give you the secret sauce to slay the 'gram game. Next up, we'll be sharing all the knowledge on Instagram caption-crafting!