For a group of 90s kids, few things scream "fun" louder than The Sandlot. Most of our team grew up with Smalls, Ham, Benny, Yeah Yeah, Squints and Wendy Peffercorn, and for many OOHligans, this was a landmark movie. In fact, I'm pretty sure I screamed "You're killing me, Smalls" at another driver in traffic last week. So you can imagine how excited we were to work on an exhibit celebrating the movie's 25th anniversary.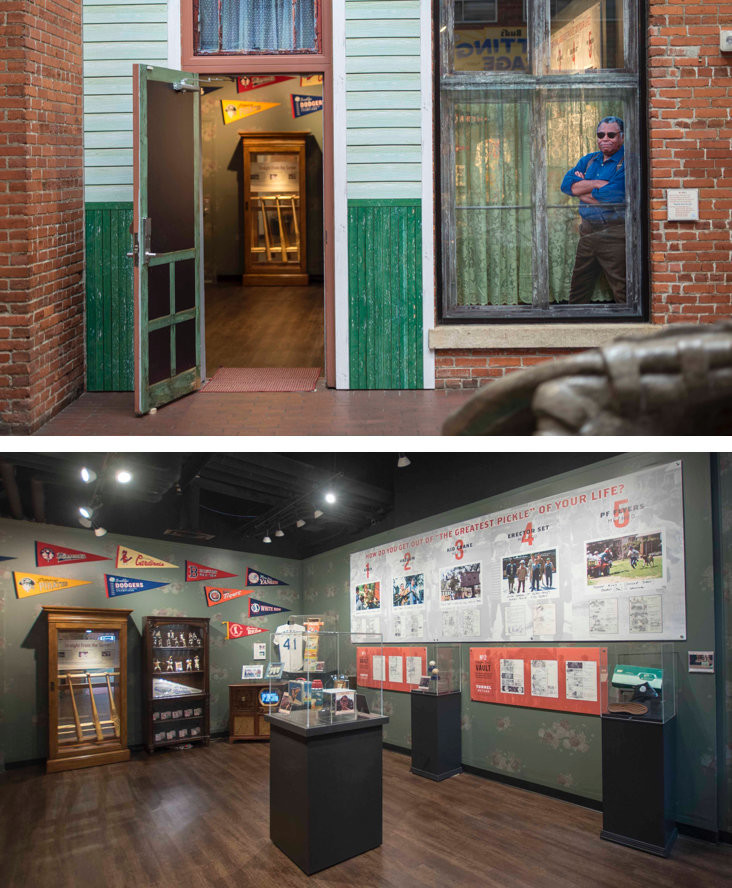 We were also a little alarmed to learn that The Sandlot was 25.
For the last several months, our team has been working hard to help bring this exhibit, "Legends Never Die!" The Sandlot Celebrates 25 Years, to life for our friends at Louisville Slugger Museum & Factory. They needed some big ideas for their marketing efforts and environmental design for the exhibit, and we were ready. Some of us had been waiting for a moment like this FOR-EV-VOR.
This has been one of our most comprehensive strategies to date. We developed a creative marketing campaign that extended from traditional media to digital ads; from outdoor ballpark signage to video. But how did we go from sitting in the dugout waiting for our name to be called to hitting it out of the park? It took a team's effort, a client's communication and a home run plan.
Step One: Identify the Goal
It's really easy for a creative team to get caught up in ideation right out of the gate. We can come up with hilarious ideas regarding the Boys of Summer and The Beast all day long if we want, but if those ideas don't help our client achieve their goals, then we have struck out.
The only way this works is if we start by identifying their goals and figuring out what success looks like for them. Enter, the Creative Brief.
The Creative Brief helps us set up the big picture. It gives background on the project and tells us the client's objective, who their target audience is, and any other information that may help the creative team. We also share the Creative Brief with our client to make sure that everyone's on the same team and swinging at the same pitches.
Goal for LSMF:
To create engaging, visual assets that communicate the aesthetic of The Sandlot as well as to reach a large audience and inform them of the limited run of this exhibit/display.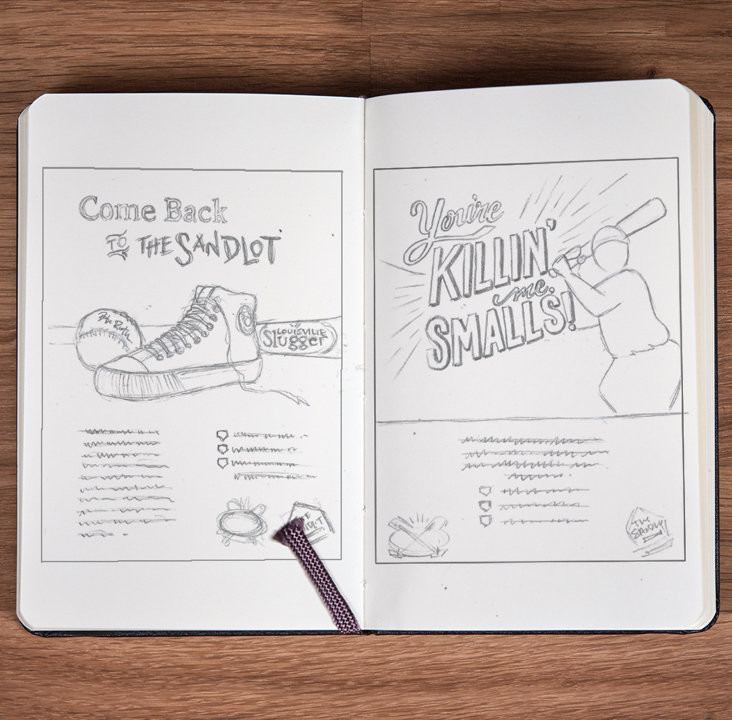 Step Two: Assemble the Masses
Just like in the beginning of The Sandlot, we need to assemble our team. We started with a large creative team for a concepting free-for-all, where anyone could pitch a big idea. We needed an overall campaign that would be more than eye-catching, but also memorable and branded for Louisville Slugger Museum & Factory.
And so we sketched, we spitballed, we even got together and re-watched The Sandlot. We drew on whiteboards and we bounced ideas off each other. Some were horrible, but most of those ideas were amazing. We whittled the pages of headlines and catch phrases, quotes and drawings down to two concepts for the client to review.
The first concept was called Come Back to The Sandlot. It revolved around the nostalgic movie memories the movie created for us. We all wanted to have friends like the Sandlot Boys, and the game has never ended in our hearts. This concept would be digitally illustrated in a 1960s-style movie poster with the iconic PF Flyers, the famous Babe Ruth ball from the movie and the Louisville Slugger bat that was used in the film. The copy encouraged viewers to "Dust off your shoes and come back to The Sandlot where the boys of summer are still running bases".
The second concept utilized the ever-popular quote from the movie, "You're killing me, Smalls!". This phrase is one of the most recognized movie quotes of all time, and when we handlettered it over an iconic still from the film, we got a nostalgic effect that pulled at our heartstrings. This creative quickly would be able to inform viewers our ads were about The Sandlot.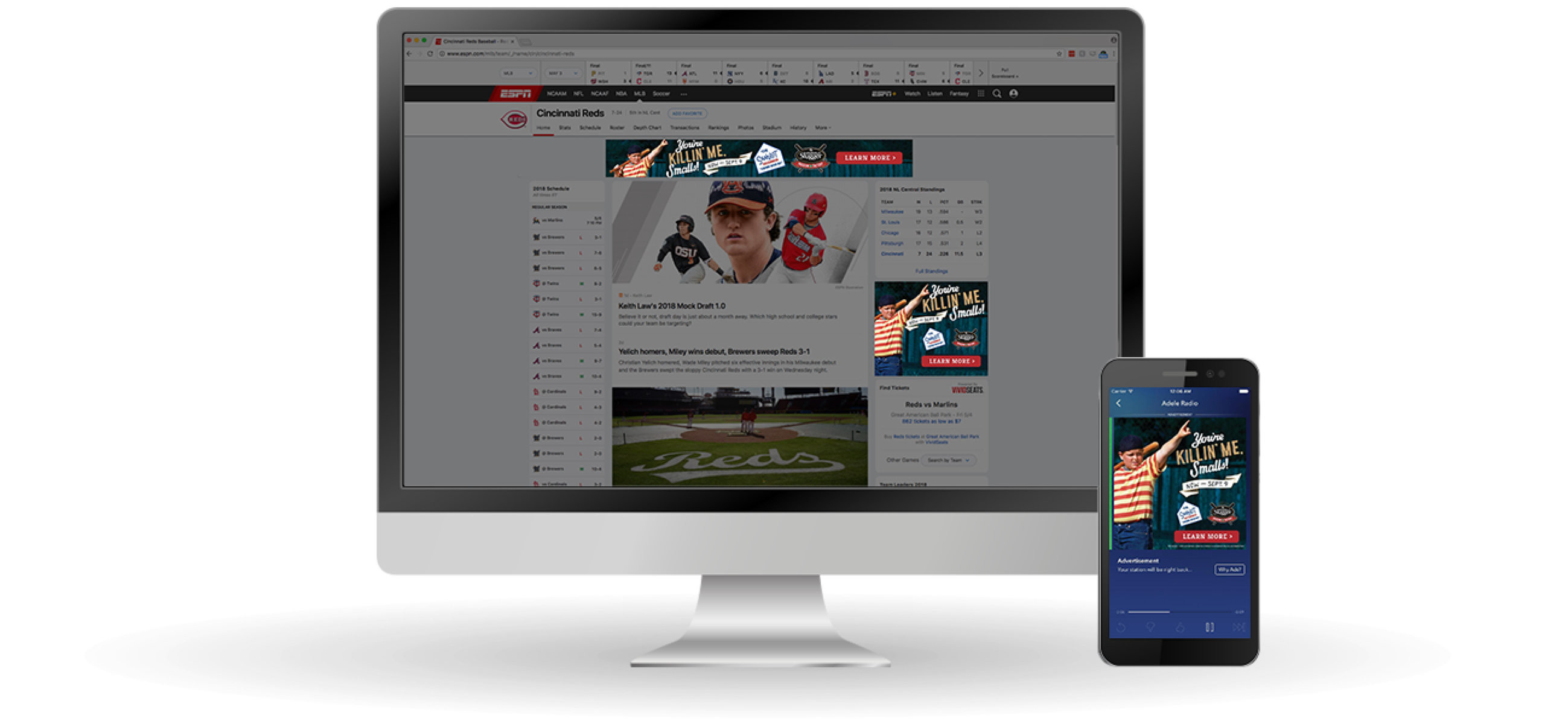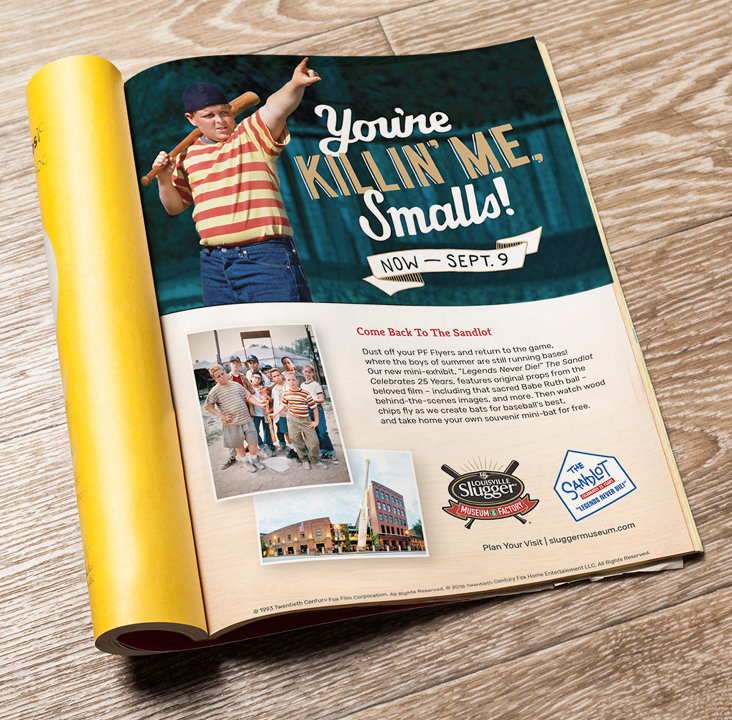 Step Three: An Away Game
None of this creative thinking or team work matters if the ideas never get out of the dugout. The next step in bringing one of these concepts to life was to present them both to the client.
Some people get nervous when it comes to laying out the playbook and letting another coach weigh in on the calls. But that's the exciting part of collaboration for OOHligans. We love to see a client's eyes light up with an idea of their own, and we love to see how an outside perspective shapes an already great concept.
In this case, we were already on the right track and the client selected the second of our two concepts, featuring the vintage-inspired hand lettering and movie stills.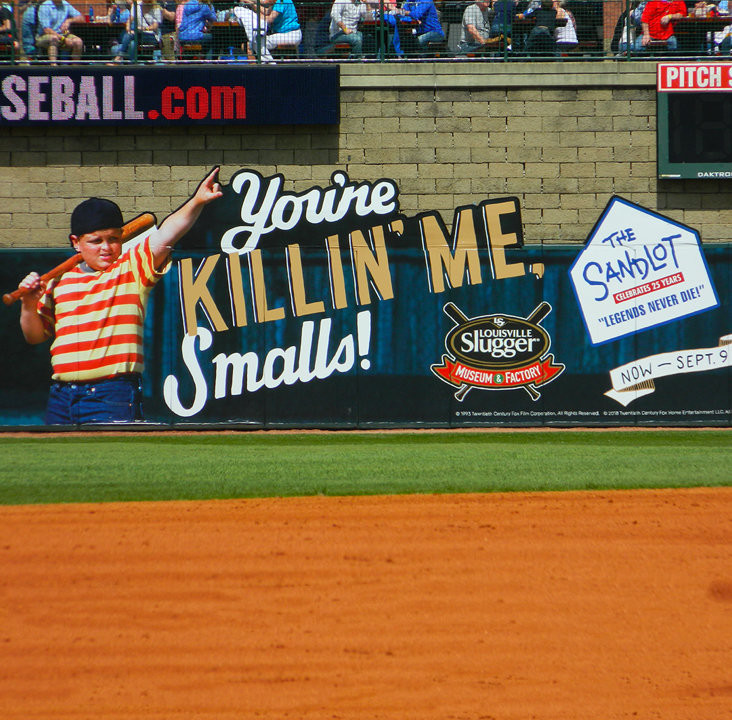 Step Four: A Star is Born
Once the client approved a concept and gave us the go-ahead, the magic really started.
Our team created a large portfolio of deliverables for this campaign, including print ads and field signage, 30 second videos on theatre screens, digital display ads, Pandora music ads, and much more. And we had to make our one concept read across the span of different mediums, making sure all the products were consistently on-brand and on-message, helping to achieve our client's goals.
This campaign was a beast, but we think we turned out some of our finest work to date! Get a load of some of our creative now!
Step Five: See It Live
The final step in this process is to deliver the campaign to the world and watch as our ideas open doors.
I hope you'll take your friends and family over to Louisville Slugger Museum & Factory to see "Legends Never Die!" The Sandlot Celebrates 25 Years! You'll see original props from the movie, actual storyboards, and more while you're there.