In a world that places function over aesthetics, it's important to step back and recognize the fundamental importance beauty plays in design. During Louisville's first annual Design Week, design icon Stefan Sagmeister explained his philosophy on "Why Beauty Matters," highlighting the rebirth and significance of beauty in design. I was able to listen in on this and many other incredible talks (shout out to you, AIGA LOU), and want to share a few of his ideas.
"Beauty is part of what it means to be human," Sagmeister said.
Sagmeister argues the most important element to consider when designing something is beauty, and that the rest will follow by default. However, beauty is not something we've been taught to strive toward. The idea of beauty sometimes has a connotation of simple-mindedness and is unimportant.
"High-end designers do not talk about beauty," he said. "It is seen as something below kitsch, which can at least be read as ironic." In reality, beauty is not a question of simple versus complex – it's a matter of if something has been done with care or without thought."
Sagmeister shared three notable examples of why beauty matters in New York City. Each one has a unique quandary, solved primarily through beauty.
The "Yes" Underpass
Sagmeister's company, Sagmeister & Walsh, was commissioned to solve a community problem existing in the Brooklyn-Queens Expressway Underpass. The decrepit 80-foot tunnel was a community eyesore and nose burn (it had become a public toilet for the homeless) no one would want to visit. Tasked with fixing the problem with a low budget, Sagmeister's team had to find something enjoyable enough for pedestrians and drivers alike to appreciate. "We couldn't just put up a 'Don't piss here,' sign" Sagmeister joked. The answer was painting two typographic murals, one along each wall of the tunnel. One side features a colorful octopus, whose tentacle creates the word "yes." On the opposite wall is a sleek black and white rendition of the word "yes."
The tunnels became a popular attraction for photo-ops and a popular place to propose – and even get married. What went from a smelly public urinal was transformed into a celebration of love and a must-see place. Creating a couple of murals from a few buckets of paint wasn't at all functional, but it was beautiful and function followed. That is the power of beauty in design.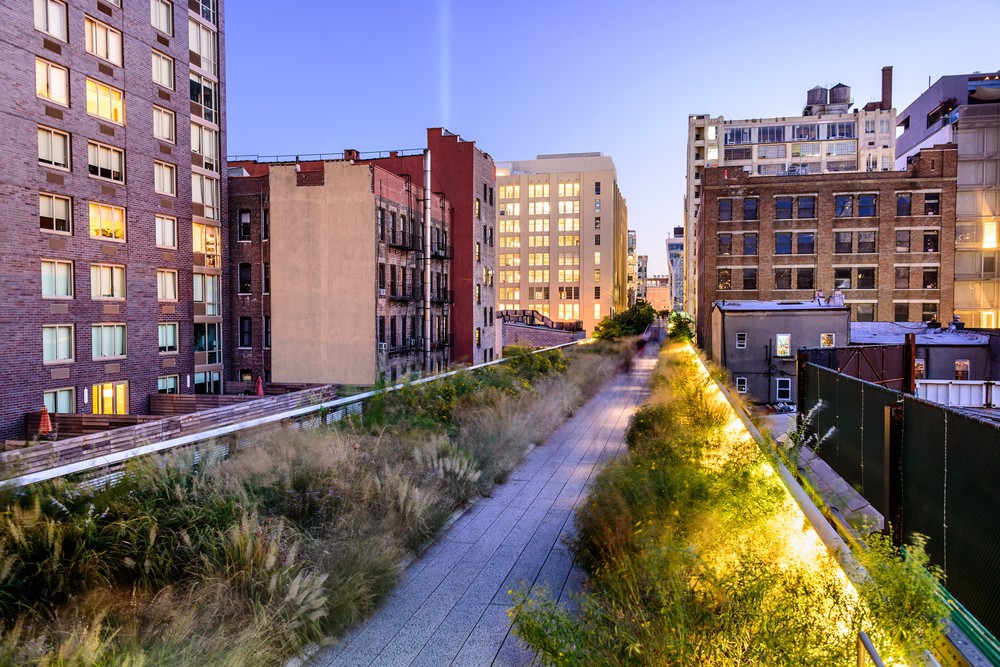 Sentiment Map
Another great example came with the Sentiment Map of New York City, created by New England Complex Systems Institute. This program uses Twitter and a complex algorithm to map people's emotions through tweets to locate the saddest/happiest areas in the city. Across the board, they found that parks are some of the happiest places and transportation hubs are the angriest. Two areas that contrasted significantly, despite being the same type of hub, were Penn Station vs. Grand Central. People hate their time at Penn Station, a dingy, boring, no-frills station. But at Grand Central, a beautifully designed, classical station, life ain't so bad. Though they are both plagued with the same struggles of delays – train switches and idiots who don't realize how much of a rush you're in and move too slow – people don't seem to mind as much when they're surrounded by the beauty of Grand Central. Beauty inspires, and is a force of its own.
The Highline
The third example Sagmeister shared with the crowd is the universally loved Highline in New York. Opened in 2009 in Chelsea, the Highline is an abandoned rail line that has been converted into 1.5-mile, open-air elevated park, complete with plants and trees. It was thoughtfully designed by a landscape architecture firm and planting designer, and now the community haven hosts events, tours, classes, live art, performances and more. But with limited entry points, people were worried it would become a crime magnet. Since its opening six years ago, it has yet to have a single crime incident. In the dense urban landscape of New York City, how is it that there is a 1.5-mile stretch that has never suffered crime? "Beauty," Sagmeister argues. This unique place, which allows industrialism and nature to come together with a celebration of repurposing, sustainability, time and decay, sustains beauty. That beauty demands a level of respect.
In the end, if your audience is a human being, which I'm 99.876 percent sure it is, beauty matters to you. Although in design we are hard-wired to consider beauty to be a basic and superficial quality when creating something, maybe we should acknowledge how important it may be. Beauty in the things we design and the creative we produce matters. Yes, design needs to be smart, and yes, it needs to be functional. But at the heart of it all, give beauty the time and care it deserves. Make it enjoyable to look at, the rest will follow.
As Sagmeister says, "Beauty is at the heart of function," and thus, "beauty is human."